"Stopping for Burning Bushes" Exodus 3:1-15
Delivered to Church for the Highlands
Sunday, August 30, 2020
Have you ever had one of those experiences with something so unexpected and unusual that it became a life-changing experience? Such experiences are often referred to as "divine appointments" or burning bush experiences.
What we've just heard in our first reading is about the burning bush Moses saw and heard from out in the desert one day. Moses has been out in the desert for forty years, a far distance from the house of Pharoah. He grew up there in the care of Pharoah's daughter and stayed there until one day he killed an Egyptian soldier who was beating a Hebrew. He fled to the desert of Midian and tended sheep. One day while out with his sheep, he encountered a bush that was on fire. As he approached it, he heard a voice coming from it, identifying itself as God, and inviting him toward it and to remove his shoes since it was holy ground. God's message to Moses through that bush was about God's awareness of the Israelites suffering in slavery and an invitation for Moses to go back to Egypt to deliver them to a new place. What an amazing encounter for Moses, who must have felt forgotten, unimportant, and lonely at this point in his life. And now God shows up, speaks to him in such a powerful way, and gives him a new purpose in life.
Are you able to relate to Moses in some way this morning? Perhaps there has been a time or two in your life when you felt like you were living in a desert and forgotten by other people and even by God. Maybe you were there because you had to be, fleeing something you did in your past that put you in that place. Or you might be there because things or circumstances happened to you and put you there. Whatever the case, did you ever run across God in your desert, finding God in a way or place you never expected. What Moses saw and heard in that bush is not limited to his experience. God loves to show up in such ways in our lives too. As C.S. Lewis noted, "Every bush is a Burning Bush and the world is crowded with God." God has a way of showing up in our lives, sometimes in unexpected ways. But are we noticing? Have you been noticing God's ways of trying to get your attention?
What God usually is after when speaking to us is our willingness to participate in something God is doing in the world. Like with Moses, God calls us to something much bigger than ourselves, to something so amazing that we may even question if we could ever do it. Moses thought he was unable due to his speech impediment. Peter, as we heard in our Gospel reading this morning, thought what Jesus called him to do was too foolish or dangerous. And we may be just like them and question our invitation to do God's work. That may be what we feel this morning as we consider God's invitation through burning bushes or through Jesus is to do the work of liberation. To liberate people from oppression to the Pharoah's of this world. As we look at our world today, we see people suffering from the oppression of systemic racism and white supremacy, violence, greed, bigotry, disease, poverty, and ecological devestation. And, if we are paying attention, we will not only see the need around us but will also hear God's call to do something about it. We don't have to be perfect, highly-trained, or powerful to do what God asks. We only have to say yes to what God asks of us and, with a willingness like Peter to let go of our agendas and take up the cross before us.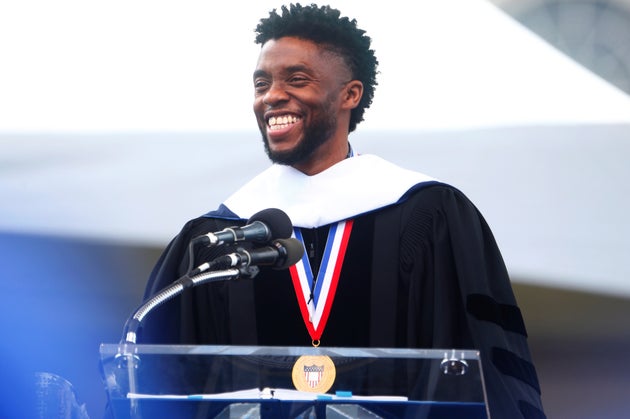 As you probably have heard, Chadwick Boseman, the actor best known for his role in Black Panther and for portraying Jackie Robinson and Thurgood Marshall, died at the age of 43 on Friday after a four year battle with colon cancer. Social media and TV news has been full of admiration of Boseman and expressions of deep loss of someone who had not only played a superhero but one who had become one for African Americans. As I read posts and articles about him, I ran across the commencement address he delivered not long ago at his alma mater, Howard University. I found his words in it moving and powerful as he told the story of when he was a young actor, being faced with a crisis of faith about a character he was asked to play that would continue a stereotype of Black people he knew was harmful. So he spoke up to the directors about it, a show of character and courage that would cost him his job. As he reflected on the experience, here's what he said,
Sometimes you need to feel the pain and sting of defeat to activate the real passion and purpose that God predestined inside of you. God says in Jeremiah, "I know the plans I have for you, plans to prosper you and not to harm you, plans to give you hope and a future."

Graduating class, hear me well on this day. This day, when you have reached the hilltop and you are deciding on next jobs, next steps, careers, further education, you would rather find purpose than a job or career. Purpose crosses disciplines. Purpose is an essential element of you. It is the reason you are on the planet at this particular time in history. Your very existence is wrapped up in the things you are here to fulfill. Whatever you choose for a career path, remember, the struggles along the way are only meant to shape you for your purpose. When I dared to challenge the system that would relegate us to victims and stereotypes with no clear historical backgrounds, no hopes or talents, when I questioned that method of portrayal, a different path opened up for me, the path to my destiny . . . As you commence to your paths, press on with pride and press on with purpose. God bless you.

https://www.cnn.com/2020/08/29/us/howard-university-commencement-speech-chadwick-boseman-trnd/index.html
As I read these words, I couldn't help but think of Moses and the purpose he found for his life in that burning bush. He gave God something to work with and the world was changed through him. The same can be true for you and me when we allow God to speak to us and call us to participate in the work God wants done in this world.